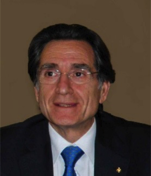 Prefect
Cavaliere di Gran Croce ordine al Merito della Repubblica Italiana
Graduated Summa cum Laude from Federico II University, Naples, specialization in criminal law and procedure. Appointed prefectural councillor in 1976, performs managerial duties in difficult or emergency situations.
Commissioner of several public institutions and local administrations.
Appointed prefect of the Italian Republic in 1994 for the cities of Rovigo, Lucca, Vicenza and Parma, later of Bologna until 2013.
During these 18 years has shown tactical, strategic and problem solving skills, constantly attentive to training and updating needs.
Several teaching appointments and publications concerning many institutional and professional subjects.