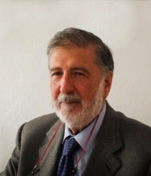 Professor Emeritus, Dermatology, University of Modena and Reggio Emilia
Graduated from Pavia University.
Head of Dermatology, St. Anna Hospital, Como, then Head of Dermatology, University of Modena until 2010.
Visiting Professor at the Dermatology Department, Harward University, Boston and at Mayo Clinic, Rochester, USA.
Member, then President of the European Academy of Dermatology and Venereology. Vice President of the International Society of Dermatology.
Active honorary member of the main international dermatological societies.
Author of 622 scientific publications.